Norway with its incredible landscapes, high GDP, low crime rate, and social equality between the sexes, contribute to making it a fantastic place to travel and live. But what about education?
With a population of about 600,000 and more than 10% of the total Norwegian population, Oslo is smaller than most capital cities in the world.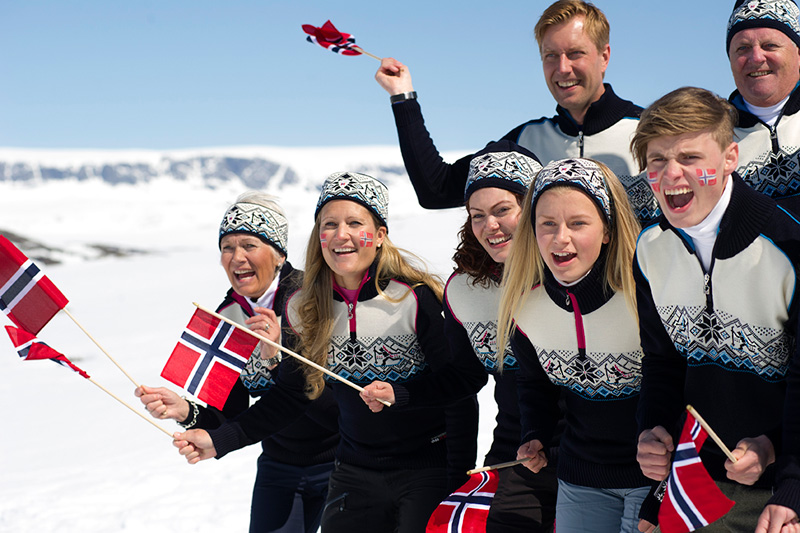 However, despite its small size, it offers an incredible range of options for you to study abroad. But it all comes at a price… In order to learn more about higher education in Oslo, this article discusses the subject at length.
1. Useful information for future students in Oslo
 From its cultural reputation to its proximity to nature, the capital is an excellent choice for studying arts and humanities or scientific research… You won't be alone, as there are about 60,000 students in the city.
 Small geographical precision: Norway is not part of the European Union, so transactions are done in Norwegian krone (1€ = 11 NOK approximately). However, the country is still part of the Schengen area, so you can move around easily.
Norway's largest city is expensive, especially when it comes to going out (bars, restaurants, etc). So remember to plan a large budget to allow you to enjoy it to the maximum.
To continue with the budget, if you stay further than 3 months, you must apply for a student residence permit. When you apply for this permit, you will be required to prove that you have enough money to live on, at least 12,220 NOK per year (at least 1,150€). The visa fee is 4,900 NOK (460€).
As far as weather is concerned, Oslo may conjure up images of snow and ice. This is not entirely true. Average winter temperatures tend to stay at -5°C or further. The summer period is cool but sunny. Another thing is that the days are sometimes very short. Think about that before you go, it can be a blow to your morale!
If there is something to remember, it is a special law called allemannsrett. It allows everyone to access and cross "all uncultivated land in Norway". Make the most of it in the summer by enjoying the wilderness and the harbor of Oslo, and in the winter discover the cultural offerings of the city. Museums and galleries are free.
2. Accessible universities and schools in Oslo
Since 2003, Norway has been following the objectives of the Bologna process in European higher education.
 The main point is the implementation of a common degree system 3 + 2 + 3, i.e. Bachelor's, Masters's, and Ph.D. These are the 3 types of degrees you can get in Oslo.
Further recognized universities in Oslo:
University of Oslo (UiO):
Founded in 1811, the University of Oslo is Norway's largest and most important institution of higher learning and research. You will surely find something that suits you.
From the humanities to law, mathematics, medicine, and economics, the range of faculties is immense. However, the courses offered in English are only Masters and Ph.D. Bachelor's degrees are only available in Norwegian.
The University of Oslo has approximately 30,000 students and 4,600 employees. The buildings are spread over four parts of Oslo.
The main campus, Blindern, is located on the western edge of the city center. A bit like the big American campuses, you can find a mini-market, a hairdresser, cafeterias, and restaurants or a bookstore. Student associations are also very present. It is an opportunity to meet people and get involved…
Oslo Metropolitan University (OsloMet):
OsloMet is the 3rd largest university in Norway with approximately 19,000 students and 2,100 staff members. Located in the city center, the university offers Bachelor, Master, and Ph.D. programs.
The range is wide: engineering and technology; health and social sciences; art, design, and theater; journalism; and economics. In terms of numbers, there are 3 campuses, and furthermore 50 student associations. Sports are also well developed, with a gym and a climbing wall, among others.
BI Norwegian Business School:
This business school is an independent foundation based on business and management disciplines. There is a wide range of programs available in English, from Bachelor to Ph.D. level. Almost 15,000 students are present on the Oslo campus.
The main building is very modern, with a glass ceiling! BI Norwegian Business School is also one of the top 1% of business schools worldwide with Triple Crown accreditation (EQUIS, AACSB, AMBA), which makes your degree more valuable internationally. The school also has campuses in Bergen, Stavanger, and Trondheim.
In addition to the above, there are other more specialized schools. The Norwegian School of Theology, Religion, and Society (specialized in theology, religion, and society), in the music sector with the Norwegian Academy of Music, or in architecture with the Oslo School of Architecture and Design.
Which university should I choose in Oslo?
This is a very personal choice, which also depends on your interests, your course of study, and/or your experience. Also, think about the language of instruction. English will probably be easier than Norwegian if you have no previous knowledge. If you want to experience the learning process 100%, this is also a good opportunity to take language classes…
Do you have any administrative concerns? As a European citizen, you are lucky because the paperwork is minimal. Very often, universities offer to help you with the procedures. Do not hesitate to contact them.
3. How to study in Oslo
Applying to Norwegian universities
To apply to Norwegian universities, you should prepare at least 10 to 12 months before the start of the academic year in order to meet the application deadlines and make sure you have all the required documents.
How do I check the equivalence of my degree?
Norwegian institutions decide whether your foreign degree is 'academically' equivalent to one of their degrees or other qualifications. Admission is based on the Higher Education Entrance Qualification. The requirements are specified in the GSU list, set up by NOKUT, the Norwegian Agency for Quality Assurance in Education.
Further, additional requirements may be set regarding education level and/or English language proficiency.
What are the English language requirements for studying in Oslo?
It depends on your country. To confirm whether or not you have a good command of English, you can go to the same site, NOKUT, to see what the requirements are for your country. As a French student, you need to have one of the following tests:
Test
Détails
Score minimum
TOEFL (Test of English as a Foreign Language)
IBT (internet-based test)

PBT (paper-based test)

60

500

IELTS (International English Language Testing Service)
/
5
Pearson PTE Academic
/
51
Telc (The European Language Certificate)
 /
Variable
Examens de Cambridge
– First Certificate in English

– Certificate in Advanced English

– Certificate of Proficiency in English

Variable
The only exceptions are if you have already studied in an English-speaking country, or if your previous studies were 100% taught in English, you can avoid it! Again, this can change depending on the university.
4. What are the fees for a course in Oslo?
Very good news on this point! The majority of Norwegian universities are publicly funded and the government considers access to higher education for all to be an important part of society.
Therefore, as a rule, Norwegian public institutions do not charge tuition fees. This also applies to international students, regardless of their country of origin. Although this is always a good thing, you should keep in mind that the daily costs are very important…
5. Are there any exchange programs to go to Oslo?
We are fortunate to be part of the European Union. Thus, you can benefit from the Erasmus program, which allows you to join a foreign university through an exchange.
1. Folk High School, folkehøgskole.
What is a folkehøgskole? It's a bit difficult to explain, but it's a kind of organized gap year, in boarding school. You live, sleep and eat on campus! The purpose of these schools is to give students the opportunity to spend a year doing something they are passionate about or to discover new passions.
Considered 'free schools, there are no grades, no rigid curriculum, and no exams. According to Norway, it is a way to learn better, without pressure. Classes are small (10 to 20 students) and last 9 months, from August to May. Most students attend folkehøgskole right after they graduate from high school.
Notably, most classes are taught in Norwegian. However, staff and students usually speak English, and many schools offer language courses. After 9 months, you should be able to get by in Norwegian because of the total immersion…
Furthermore, it costs an average of 10,000€ (120,000 NOK) to enter this type of school. There are further 80 schools throughout Norway, with more than 20 around Oslo.
Further details (in English) can be found on the folkehøgskole website.
2. University exchanges within the Grandes Écoles or Universities
Depending on your program of study, it is likely that a semester or a year of exchange will be planned abroad. Your school offers to send you abroad to one of its partner universities. For Oslo, almost all universities welcome exchange students.
Some open their doors only to exchange students, such as the University of Sports Sciences (NIH, Norwegian School of Sport Sciences). The University of Oslo, in addition to these 'normal' programs, has a further 500 partners around the world: why not you?
3. International Summer School (ISS) – The International Summer School
Offered by the University of Oslo or OsloMet, it is like a mini United Nations organization welcoming students from all over the world! Courses in English on Scandinavian and Norwegian society and culture include excursions and a rich variety of social and cultural activities and events.
Averaging 6 weeks in length, with seminars, lectures, and group work, this is a great opportunity to keep your summer busy…
6. The cost of student life in Oslo
Unsurprisingly, the Nordic countries offer a higher quality of life, but this comes at a price. Although this may be a bit of a shock, there are student scholarships available to finance your stay in the country.
The further one, Erasmus+, is financed by the European Union and can be combined with the CROUS scholarship. There is also international mobility aid and regional aid. Remember to find out about this beforehand, as applications for this type of aid must be made in advance. As soon as you get to know Oslo, you will of course find good deals, with a bar or a restaurant that offers affordable prices.
But there is a big difference to note when it comes to accommodation: if you are in a university room or in a private rental.
In the case of a university room, you share common rooms with other students, and the residences are often well-equipped (laundry, sauna, party room, or student pub). They can be located in the city center or a little outside, in 'student villages. You have to make an application well before the beginning of the school year.
Finally, you should count on a budget for books and supplies (calculated in Extra). It is recommended to buy your own books because your courses are often based on reading. It is up to you to see if you can get it in an e-book for example.
Here are the average expenses according to your profile:
Type d'étudiant
Coût par mois

(Logement + Nourriture + Assurance + Extra)

Dépenses modestes

(Chambre universitaire = 375€/3,600 NOK)

Environ 775€

(375+300+50+50)

Dépenses dans la moyenne
Environ 1,075€ / 11,500 NOK
Dépenses importantes

(Location privée = 840€/9000 NOK)

Environ 1,440€

(840+400+100+10
(Source : Université d'Oslo)
Finally, as an EU citizen, you do not need a work permit and you can work part-time. Although the Norwegian language is a further advantage, you can always look for a student job in a restaurant or cafe for example.