Studying at HEC Montréal in Canada: instructions
You've probably already heard of HEC Montréal. But have you thought about joining this institution? Here is our complete guide to give you all the information you need!
Founded more than 100 years ago, HEC Montréal (not to be confused with HEC in France, which is not related) is one of the best business schools in Canada. It is regularly awarded by numerous international rankings and is 3 times accredited (AMBA, AACSB, and EQUIS). It is accessible directly after high school.
HEC Montreal offers its students a multilingual and multicultural environment as well as a large network of alumni, all of which constitute an ideal setting for business studies.
Furthermore, Montreal was ranked as one of the best cities for international students in North America by the QS Best Student Cities (2019)!
HEC Montreal key figures:
1st business school in Quebec, 3rd in Canada, and 57th in the world in the KUBS Worldwide Business Research Rankings (2018)
1st business school founded in Canada
 Among the top 50 universities in the world in the Global University
Employability Ranking of Times Higher Education magazine (2019)
15,180 students
4,144 International students from 144 countries
100,800+ graduates
Among the top 100 business schools in the world and 3rd largest francophone business school in the world for its contribution to research
1 – HEC Montréal's world ranking
HEC Montréal regularly appears in world rankings in the field of management. The university is also regularly ranked at the top of management rankings across Canada. This is the case of the Best Masters ranking, which ranks the institution as the top management Master's program in Canada in 2020.
And to get a further idea of the institution's ranking, here is its ranking by some international rating institutes:
2 – What are your chances of getting into HEC Montréal?
HEC Montréal offers a variety of programs that can be entered directly after the baccalaureate or after a bachelor's degree (bac further). You can join different programs such as
The Bachelor of Business Administration (note that this is a Bachelor's degree, bac plus 3, and not the equivalent of our Bachelor's degree in France!)
Microprogram certificates for undergraduate and graduate studies, to be combined with a salaried activity
Masters in management and MBA (master of business administration)
Doctorates in management
Some programs have a limited number of students. In general, all applicants to undergraduate programs (Bachelor's level) are accepted! Of course, only if they meet the university's admission requirements.
For graduate programs, the admission rate varies according to the number of applications and is not communicated by the university.
HEC Montréal remains a very accessible institution compared to other universities of this rank in the world and in France.
What scores do I need to achieve to meet the school's criteria?
Academic results:
Your academic record will be the further criterion for admission to HEC Montreal. It should be noted that the school is much less selective than many other reputable universities.
Although many applicants (especially for post-baccalaureate programs) are automatically accepted, it is preferable to have an honors degree in your bachelor's degree to put all the chances on your side. Similarly, maintaining a minimum grade point average of 12, especially in the subjects you wish to study, will help your application.
The same applies if you wish to join HEC Montréal after your university studies, as the selection process is a little tougher for the Master's programs
The English test:
When you join HEC Montréal, you will have the choice between joining a French or English-speaking program.
A minimum level of English must be proven in order to be selected.
3 – Why study at HEC Montréal?
A multi-cultural context
HEC Montréal can be a good choice if you want to study in a multicultural context since a further 35% of students come from all over the world. It is also an interesting choice to improve your language skills because studies are in French and English.
An excellent entry point into the Canadian work world
HEC Montréal can also be a sensible choice for quickly entering the world of work. The university has a vast and varied network of alumni who are now working in management in companies around the world. This can be an interesting way to build a professional network for the future
Dozens of international exchanges
HEC Montréal also offers numerous exchange partnerships with universities abroad, which is a strong point for standing out in the work world, discovering new cultures, and opening up to new professional and personal horizons.
A pleasant and well-located campus
You can also take advantage of rich infrastructures, such as Canada's largest business library and lively campus life, which will allow you to make the most of your student life.
What are the good and bad reasons to join HEC Montréal?
The good reasons to study at HEC Montréal :. You have a good academic record and a good level of English.
You are very comfortable in a new environment and adapt easily.
You are not afraid to study away from home on a long-term basis and you are looking forward to an international career.
The wrong reasons to study at HEC Montreal:.You don't have the financial resources to pay for your education. HEC Montréal is a low-cost institution compared to French business schools and public universities in Canada. However, tuition fees are still a substantial budget, and scholarships for international students are quite difficult to obtain.
If you are not comfortable with the idea of being away from home for the entirety of your studies and would like to study in Canada in the further term, there are many other options available to you, such as joining HEC                      Montreal for a summer semester or as an exchange student.
4 – Discover the campus and student life at HEC Montreal :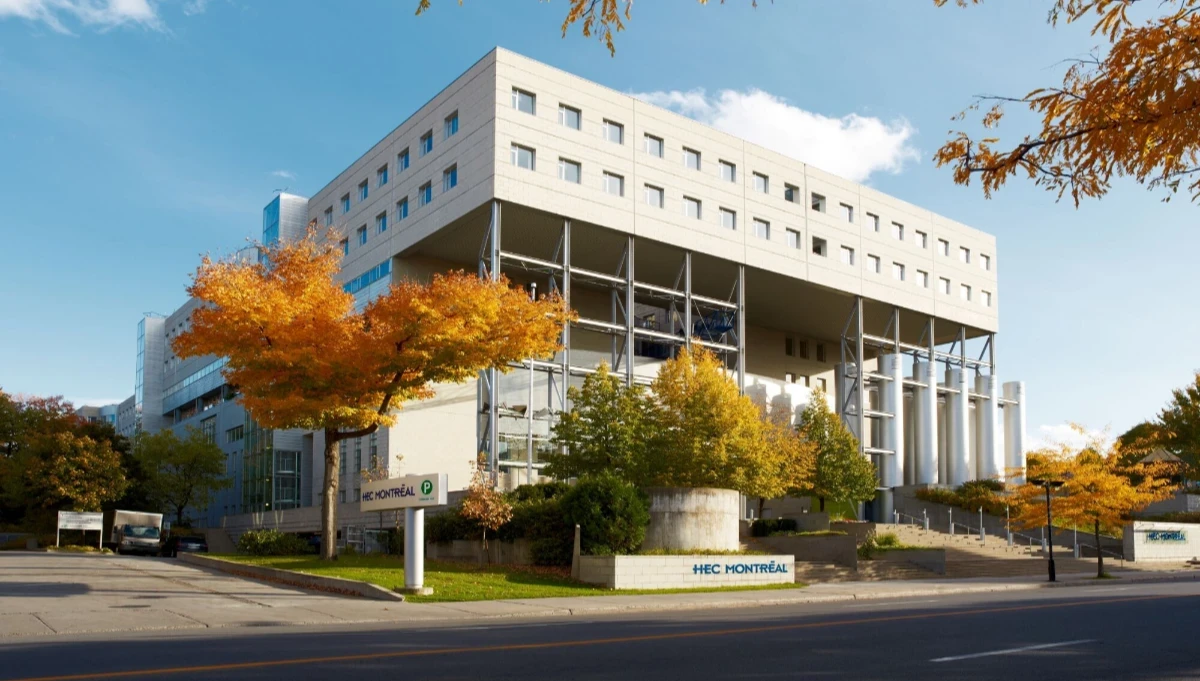 Life on campus at HEC Montréal is very rich, as it is punctuated by sports events and those organized by the many student associations in all fields.
To access all the information on the university's community life and to get an idea of what student life is like on campus, we invite you to visit the school's community life page! It is full of information about the different student associations, how to start a project, and all sorts of useful references, more or less down to earth.
If you want to visit the campus from home, the campus page will provide you with a lot of information to give you an accurate idea of the place (for both campuses). You'll also find valuable information about budgeting, transportation from downtown to the various campuses, housing, and health insurance.
And for further information, the YouTube channel Allô Anaïs gives you plenty of advice through its testimonial on life at HEC Montréal and everything you need to know before you start.
5 – What are the key dates for preparing your application?
The academic year at HEC Montréal is divided into two terms:
The fall semester, from the end of August/beginning of September to the end of December August/early September to the end of December.
 And the winter term, which runs from January to the end of April.
6 – How do I apply to HEC Montréal?
Applying to HEC Montréal after high school (Undergraduate Program) :
If you wish to join HEC Montréal directly after your baccalaureate (or after one year at university), admission is based on your application.
You will need to gather the following documents:
 A copy of your bachelor's degree transcript (if available)
 A copy of your transcript from your first semester at the university or preparatory class, or at the lycée
 A list of courses in which you are enrolled at the university for the second semester
 Proof of your English proficiency (via a certificate of completion of one of the tests we mentioned further). It is possible to take the tests at HEC Montréal. If you have taken the tests at an independent organization, the organization itself must send your certificate.
Your documents can be in French or English. All documents in another language must be translated by an official translator into French or English.
Once you have gathered all your documents, you will need to make an online application. A registration fee of approximately 190€ for foreign applicants is required.
A login will then be created and you will have access to your online account within a few days. Once this account is created, you will have to submit the documents that make up your file on the university's internet portal. You will be kept informed of the progress of your application on your personal space.
You will receive a final answer from the university within 4 weeks. It will then be time for you to make a choice and respond!
Applying to HEC Montréal after a Bachelor's / Master's degree (Postgraduate):
If you wish to apply to HEC Montréal for a Master's program, the registration process and the file to be compiled are similar to those for postgraduate students.
To apply, you must select the desired program and follow the steps mentioned further on.
7-What are the tuition fees at HEC Montréal?
The tuition fees applied by Canadian universities are on average more expensive than in France. Furthermore, higher fees apply to international students.
French and Belgian-speaking students are privileged when it comes to tuition fees since the same fees as for Canadian students apply to them! HEC Montréal is therefore more affordable than most French business schools.
| | | |
| --- | --- | --- |
| Statut étudiant | Frais (dollars canadiens) | Frais (euros) |
| Québécois | 4 100 $ | 2640€ |
| Canadien non-résident du Québec | 9 700 $ | 6250€ |
| Français et Belge francophone | 9 700 $ | 6250€ |
| Étranger | 28 500 $ | 18 370€ |
8 – Are there scholarships available to study at HEC Montréal?
There are scholarships at HEC Montréal but they are rare and difficult to access for foreign students. On average, about ten people each year are eligible for a scholarship. For more information, please consult the university's scholarship guide.
If you wish to apply for a scholarship, simply mention it when you register and don't delay in registering to give yourself the best chance.
If scholarships are difficult to obtain, there is another, more accessible solution. You can opt for the work-study program. This is a program that combines work and study, with the student receiving 50% of his or her salary in the form of a scholarship. The work will be done on campus. To register, simply ask one of your professors or the administration.
The program is intended to last one semester and must be renewed each time. It is an excellent way to finance your studies while combining work experience and theoretical learning.
9 – How much will it cost to study at HEC Montreal?
Life in Montreal is slightly more expensive than in most large French cities. Although the university offers the choice of living in a student residence, with preferential meal prices, you will need to budget for your daily expenses!
The university has modeled an estimate of the expenses to be expected. Here is a summary:
expenses
Dollars canadiens
Euros
Tuition fees
$ 9 700
 6250€
Books (per quarter)
 $ 400
260 €
Accommodation (per month)
Housing
 $ 800
520 €
 (500 en flat share)
325 €
Home Insurance
 $20
 13 €
Heating and electricity
 $60
 39 €
Telephone, cable, Internet
 $ 120
 78 €
Food (per month)
Grocery store
 $ 300
195 €
Restaurant and cafeteria
 $ 100
 65 €
Transport (per month)
Public transportation
 $51
 33 €
Car
 $ 200
130 €
Gasoline and repairs
 $ 200
130 €
Indoor parking
 $ 200
130 €
Personal care and pharmacy (per month)
 $ 120
 78 €
Sports & Recreation (per month)
 $ 100
 65 €
Clothing (per month)
 $50
 33 €
Annual total of personal expenses
 $15 252
 9 914 €
Total annual general
 $25 304
 16 448 €